Haley's Room

Welcome to Haley's room, here you will find an on going chronicle centered around our newest joy,
Haley Rae Bartoletta.
Where would you like to go?
Hannah's Room, Haley's Photo Gallery, Hannah's Memorial
A look around Haley's room: click on the link below to...
Up to Date with Haley Rae:
5/19/2000: Stay tuned, she is on her way. First pictures will be published soon.
6/24/2000: A new arrival, June 24, 2000 at 7:32 pm!!! Our new joy arrived a little early today. After going in this morning for a routine exam to check for dilation, Tricia's water ruptured during the exam and we were informed that our new arrival would be making an appearance before the strike of midnight. The labor went well and Tricia did a wonderful job! After her water ruptured at 11:50am, she was fully dilated and ready to push by 7:05pm. Roughly 20 minutes later our beautiful baby girl was born. Upon arrival, she tipped the scales at 8lbs. 6oz and stood a towering 20.4 inches tall. Welcome to the world baby, we love you so much!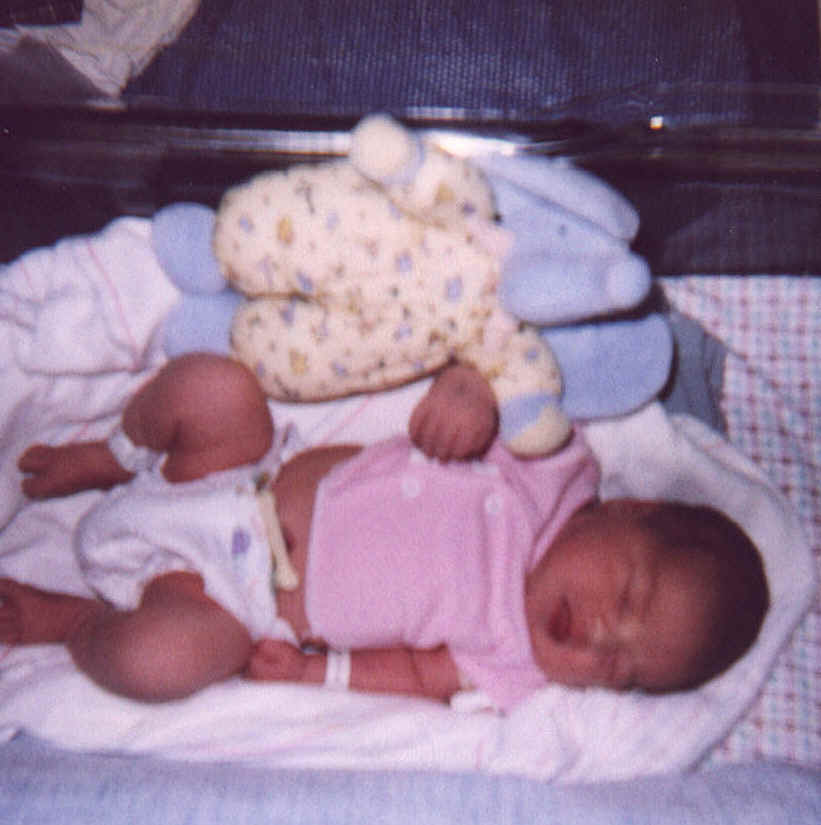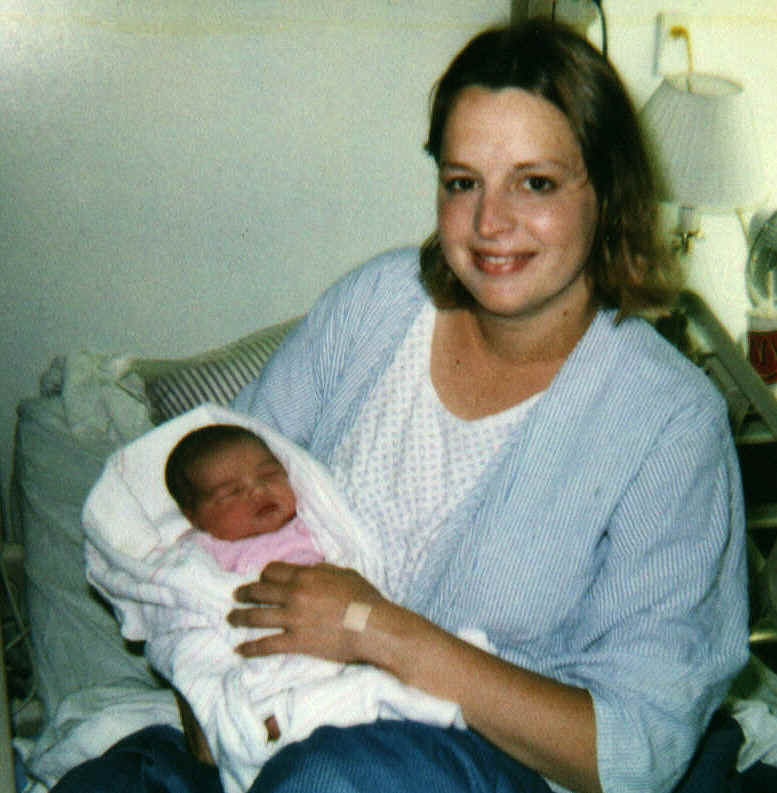 6/26/2000: We have returned home this evening after a few days in the hospital. Haley is doing wonderfully. Trish, on the other hand, has been having some pain in her upper neck and back area. The doctors say that she has some strained muscles in her neck, but we are thinking that it is probably an epidural headache. We had to get out of that hospital tonight, we had a rough night of it last night. Hopefully, now that we are home, we will all relax a little and recover.
6/27/2000: Last night was wonderful! Haley is feeding well and sleeps like an angel. Day time hours, for her, are definitely 8:00pm - 2:00am. This is when she is most active, hopefully we will get that turned around in due time. Trish is feeling better today. She read on the Internet about "epidural headaches" and how to treat them. She has started on some caffeine and it seems to be helping. I feel so sorry for her because it is obvious that she has been in some pain. Hopefully, with some rest and time, she will be back to her old self soon. We are both dying to put Haley in her stroller and go for a walk around the neighborhood to show her off. Maybe tomorrow!
6/28/2000: Haley returned to the hospital this morning for a weight check, all was well but she has lost .3 lbs of her birth weight which is to be expected. Trish also returned to the hospital today in response to her pain in her upper neck and head. It was FINALLY determined that she had what was called an "epidural headache" caused by a "wet tap" when recieving her epidural. Funny, the doctors at Andrews AFB say that this is a common occurance when recieving an epidural but everything that we have ready on the internet indicates that it only happens about one percent of the time and is usually due to an inexperienced doctor. "GO FIGURE"! Anyway, Trish had to have another procedure called a "blood patch" done which involved going back into her spine and injecting blood into the epidural space which is suppossed to clot and stop the leaking of spinal fluid. This procedure seems to have worked but it is definately a scarey situation having this kind of trouble with your back. Trish is no longer in so much pain and Haley is doing fine. The breast feeding thing tends to be the biggest challenge at this point. We have weakened lately and given her a bottle or two here and there. Hopefully things will go better in the coming days. Sleep well baby! We love you!
7/18/2000: Haley took her first "road trip" this past weekend to see her Grandma and Grandpa Bartoletta. The trip was little more difficult than what Trish and I expected but we had a good time. Haley didn't seem to care for the car too much at all and much of the trip down awake and upset. Trish and I felt soooo sorry for her because she developed an uncontrollable diaper rash that left her but extremely red and painfull, sometimes even bleeding. All in all, it was a good weekend but I think that Trish and I will keep her home for the next month or so until she gets a little older. Mile stones this week include: moving her head back forth while laying on her belly, she is much more alert to her surrounding and we are hoping to see a first "real" smile soon. You can see some updated pictures that were taken on our trip in "Haley's photo galery", just click here.
8/2/2000: I must appoligize for the lapse in time betwee updates but as you can imagine, this is a very busy time for us. We have been enjoying our new bundle of love and preparing for a change of lifestyle with our separation from the military. Haley is growing like a weed and is up to 11 lbs. 4 oz. as of yesterday. She has definately begun to smile, and as you can expect her mother and I eat up every one of them. With every passing day she gets to be more and more fun! What a precious gift, we love you very much Haley.
8/24/2000: Haley is going through what appears to be a little change. She is beginning to look "HAPPY" all the time. She smiles from ear to ear and is on the verge of true laughter. Grandma Bartoletta is coming to visit for the first time tonight and will accompany Haley on her trip to receive her first shots tommorrow. Trish and I decided to give up on Haley sleeping in her crib for a while, at least until we move. As an alternative we purchased the biggest bed that we could find in an attempt to give all of us "a little more room".
9/10/2000: Haley is changing dramatically! She has become a smiling machine, constantly exploding into smile at ever poke of the finger into her belly or grab of her foot as she tries frantically to kick through the air. Haley's favorite time of day must be bath time. She kicks about in the tub as if she were having the time of her life. After her bath, we usually put her down on the bed and rub her down with baby lotion, this is a tradition that Haley has become quite fond of. She we massage her feet, chest, legs, and hands, she smiles and blows bubbles out of her mouth, making sounds as if she is talking to us. We have yet to have heard a "real" giggle or laughter but she seems to be on the brink of it. As we approach her three month birthday, we hope that she will soon be sleeping through the night, a task that does not seem to be coming too easily.
9/13/2000: Haley learned how to roll over today from her stomach to her back. Take a look in her photo gallery to see pictures of it! She has become so strong and has no problem holding her head up for long periods of time, granted that she is in a good mood. Surprisingly, she has actually taken a liking to the bottle. Well, I don't know if I would call it a liking, but she seems to be tolerating it for daddy's sake. Trish and I are very proud parents to see her rolling over this evening, it came somewhat as a surprise to us as we were just commenting on the fact that she wasn't doing so good on her tummy. Oh well, surprises are nice, I am sure that won't be the last one!
10/11/2000: Finnally, Haley slept through the night, 9:00pm - 5:30am. Yippie, it is all smooth sailing from here!
10/12/2000: You stinker! One night of full sleep and then you are up ALL night screaming, the very next night. Oh well, so much for "all down hill", Daddy has to get some sleep for his first week of work.
1/12/2001: Far too long since our last update, I guess we have gotten too carried away with posting new pictures of pride and joy. Haley has been growing like a leaf, as you can see from the pictures. She is just starting to realize that she has the power to raise herself up off the floor into a push up position, so I am sure that it won't be long until she is trucking around the house. She is extremely attached to her mommy, that is for sure! No teeth yet and her last weight was about 16 lbs. 11 oz. As the days go by, she gets more and more cute. Daddy doesn't think that she is so cute at 11:00pm, 1:00am, 4:00am and so on and so on when he has to get up and put her passy back in her mouth so that she will go back to sleep... Yes, that is right, she still does not sleep through the night on any type of consistant basis. Oh well, maybe one day.
7/22/2001: Once again, this update is long overdue. Haley has reached many new milsetones over the last 7 months. She is crawling like speedy gonzales, and just begginning to take a few steps. She has 3 teeth, and a smile that is just irresistable. She is FINALLY sleeping consistently through the night. She is still defineltly a Mommy's girl. She has decided that Daddy is not to touch her Mommy. She pushes his hand away everytime he touches me. We are hoping that will not last long. Kevin and Haley are also really staring to have alot of fun together, now that she is at the playing age. They love to ride bikes and hike together. Kevin also pushes her around the house in her little pink car she inherited from Hannah. We have been so fortunate that Haley has been the picture of health. She had her one year well baby and the doctor says she is right on target. He says that her vocabulary is adavced for her age. She now says: Mama, dada, duck, bird, ba (for bottle), barney (of course), pa-pa, hi, bye-bye. She must love to talk, like her Mommy. We took her to Florida right after her one year birthday and she had a blast (as did we). We spent several days at the ocean swimming and playing in the sand. She had a chance to play with all her cousins. My Dad taught her how to say duck and bird by taking her to the pond and feeding the ducks everyday. By the time we left she was calling Grandpa "Pa-Pa", like all the kids do. We also took her on her first boat ride with Grandma and Grandpa Smitty, where she surprised us all by sleeping the whole time. We will update with Florida pics as soon as they are developed. She also loves to swing on her swing in the backyard. She will look out the window of her playroom and point to it. We are expecting a visit form Grandma and Grandpa Bartoletta very soon, which Haley always loves. There really isnt much else to report. Things are great. We feel so blessed every day for everything Haley brings to us. She really resembles her big sister in her looks and smile. But, she defintely has a personality of her own. Hopefully, the next update will be sooner than this one.
02-26-2002: It has been far too long since the last update. Haley is growing like a weed. She now weighs a whopping 24 pounds and is 31 inches long. She is running around everywhere like crazy. She talks up a storm. She says just about everything she hears. Her favorite words are "Hi Mommy" "Help", "Daddy Home", "Robbie", "Pasie (that is what she calls her blanket). This week she is trying to learn how to jump. She loves to dance with her Daddy and listen to their special songs. Her favorite song is "Lets talk about me" by Toby Keith.. She is still very much a Mommy's little girl. Daddy says she has me wrapped around her little finger, and he is probably right. She is very attached to her blankie and would love to carry it around everywhere with her, but we TRY to limit it to bedtime unless she is sick. She loves to play with her best friend Robbie who lives in our neighborhood. She also loves to play with her baby dolls and push them around the house in her stroller. She is very strong willed and smart. She is so smart that she leaned how to climb out of her crib tonight, so it looks like she will be moving to a big girl bed soon. We went to visit her Grandma and Grandpa Bartoletta in Georgia and she had a great time. She started calling her Grandma "Nana",which really made her very happy. They took her to ride the carousel at the mall, as they do every time we visit and she had a blast. We are hoping to make a trip to see our family in Florida soon. Haley's health has been perfect and we feel so blessed for that. She is so special. She makes her Daddy and I so proud. Once again, I hope the next update will not be so distant from this one.
11-24-2002: Haley has turned into a sprawing your lady. She is now potty trained, thanks to the wonderful efforts of her mother. She is highly opinionated, like any young woman, and makes us very proud. We enjoyed a summer of going to the beach, going to pool, playing at the parks, and Haley's first camping trip. We moved from a crib, to a toddler bed, and now to a full blown queen size bed that Haley loves. It is amazing watching her develop and begin to notice the world around her and deal with it in her own special way. Haley spent a couple weeks by herself at her nanni and poppop house and didn't seem to miss her mother and I a bit. Haley loves her baby dolls but is not up to watching a good football game with her daddy as well. One of her favorite foods is guacamoli and she loves to go eat at this little mexican resteraunt down the street from us, where she has the waiters wrapped around her finger and they buy her candy after she eats. In the coming year, it is my goal to get her interested in some type of musical instrument, Trish wants her to start dance classes too so who knows. We plan to have Thanksgiving at my parents house and Christmas, back here at the ranch in good ole' North Carolina. Christmas should be a blast this year as we have gotten Haley a huge playhouse, she is going to love. With the start of the new year, we look forward to more of the same blessings that she has brought to us. Happy Holidays buger! I love you..., Daddy.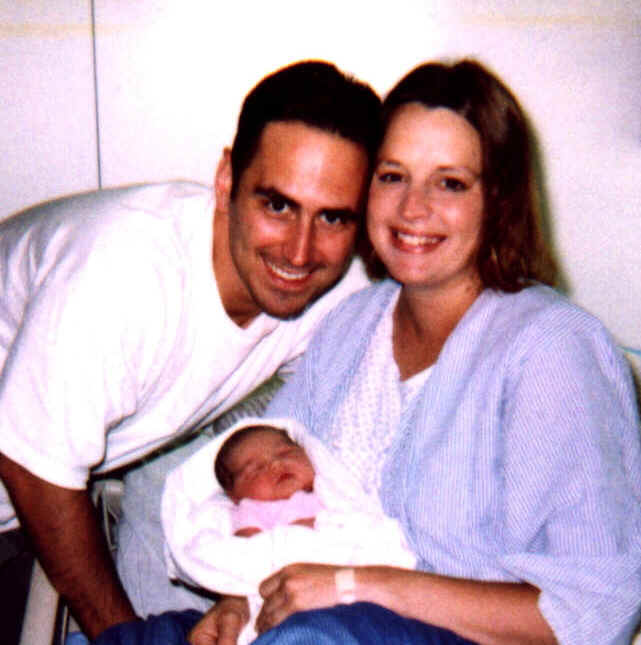 You are visitor number
to "Haley's room."