\

Hannah's Room

Last revised: 10/17/2003.


Hannah's own personal angel, watching over her!
This page is dedicated to our daughter Hannah Rae. She was born on September 27, 1997 at Malcomb Grow Medical Center, in Maryland. On September 28, 1998, she was diagnosed with neuroblastoma, a rare form of childhood cancer. We hope this page will serve as a way to keep our friends and family informed on Hannah's progress, as well as a means of support to other families fighting similar battles. We have included some of Hannah's favorite things on this page so that you might come to now her better. Thank you and please sign Hannah's guest book on your way out.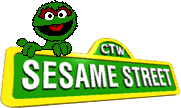 Thanks for coming!
Our story begins on the day following Hannah's first birthday. She was being seen at the pediatric clinic for a follow up appointment on an ear infection. After many friends, family, and even Hannah's day care provider had commented on the size of Hannah's belly, we asked the doctor to take a look. She immediately felt a mass, and by the end of a grueling two days, it was confirmed that Hannah had a large cancerous tumor in her abdomen; this was suspected to be Neuroblastoma. During the course of the next two weeks, numerous tests and a biopsy confirmed that Hannah has stage 3 Neuroblastoma that measured 10x11x12 cm. To our benefit, the tumor had only grown to a large mass but not spread to any other organ, bones, or bone marrow. For this reason, the doctors are optimistic, and so are we. Below please find an ongoing chronological update of Hannah's treatment. Thank you, and please remember Hannah in your prayers.

September 27, 1997 "Hello World"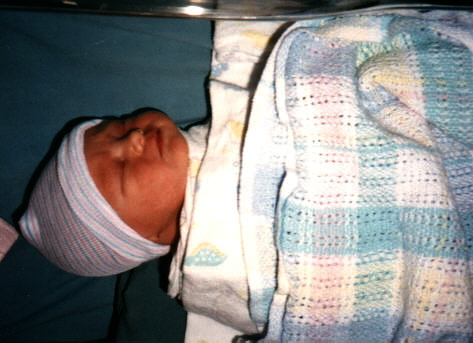 "My First Year"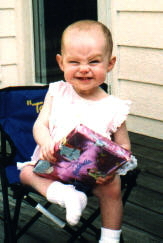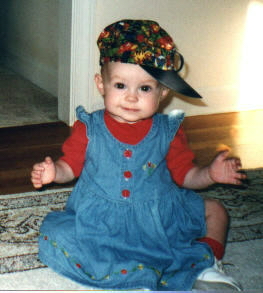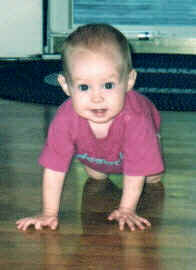 September 27, 1998, My first Birthday
"What are these people doing?"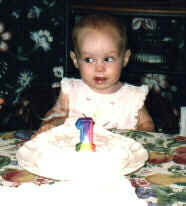 "What, I'm sick?"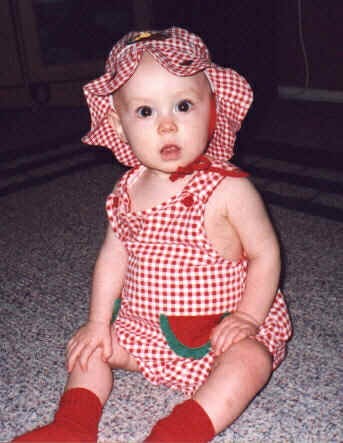 "That's OK, I am strong and I will overcome!"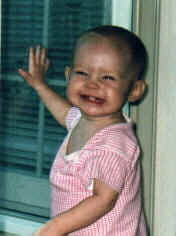 ---
Oct. 6,7,8 1998- Hannah started her first round of chemo prior to being discharged from Walter Reed Army Hospital. Her protocol is A3961. Her drugs included carboplatian, and etoposide (VP16).

Oct. 15 - We think that tumor is shrinking, Hannah's belly appears smaller and not as hard.

Oct. 20 - Hannah's 3rd trip to the hospital for blood counts, she is doing well and counts are where they are supposed to be. Side effects for this first cycle have been minimal. Hannah has stood on her own and learned to clap within the last two days. We feel that she will be walking soon. Round two of chemo is scheduled for Oct 27.

Oct. 26- Hannah had her DR appt today, blood work looked good enough to start her second round of chemo tomorrow. The doctor says that he can notice a big difference in the size of the tumor. Hannah is feeling great!! I hate to give her the chemo again, but I guess it takes us one step closer. She has not lost any weight:). Hopefully we will be able to do the chemo outpatient ( if she takes it well).

Oct 29- Hannah had her 2nd round of chemo on the 27th. She handled it very well so we got to do it as out-patient. So far so good. She has not had any side effects yet. She continues to amaze us. As if she does not have enough to worry about, she is cutting a tooth.
Nov 1- Hannah enjoyed Halloween yesterday. She has done exceptionally well with her 2nd round of chemo. She is in high spirits. She goes to the doctor for counts tomorrow. Poor baby has cut two teeth in the last two days.
Nov 5- We had to take Hannah to the hospital today because she has developed a little bit of a cough. They checked her over and said that it was nothing to worry about. We are a little bit concerned because Hannah's doctor expressed interest in the placement/size of her liver. He is going to schedule Hannah for a set of CT scans or an ultrasound before starting her next cycle of chemo. Again, this sudden change in plan has Hannah's mother and I a little worried. We questioned the doctor about the CT scan and he said that this was something that he wanted to do from the beginning, after the second round of chemo, and that her liver was fine that it just felt a little bit compressed. We also questioned the doctor about the use of herbal teas such as "Essiacs Tea" but never got a straight answer. If anyone has any first hand experience with Essiacs please inform through email. All in all, Hannah is doing well, a little tired and crabby but that's OK. Her blood counts will be the lowest this weekend. Then she is due back in the hospital for counts on Monday. God, "please don't let her get sick before then."
Nov 7- Oh well, so much for wishing. Hannah has been admitted into the hospital. After waking up to find that Hannah had a fever of 101.6 we called the hospital and had to take her in. She really did not look good all day today. Her fever got as high as 102.7 at one point and she would not eat anything. She has also been sick to her stomach for most of the day. After drawing blood they found that her platelets are 49,000, WBC is .6 and her ANC is at 84. As most of you know, these counts are very low. To her advantage, she had an Xray to check her lungs, that came back negative, along with blood cultures and mucus cultures that also came back negative for the flu. She is on antibiotics now and hopefully she will feel better tomorrow. "Good night sweet baby, try to get some rest, mommy isn't as strong as you so she may need you to take care of her." "I Love You", daddy.
Nov 11- What a week!!! Hannah has been in the hospital for four days now and it doesn't look as if we are going anywhere anytime soon. Frustration has certainly set in for all three of us. The doctors were successful in ridding Hannah of her fever. She has been on continuous antibiotics since being in the hospital. Once her fever subsided, the doctors were rather concerned about her very low platelet count (down to about 24,000), and to make things worse Tricia noticed a tiny dot of blood in Hannah's nose Monday night so then the doctors wanted to do a platelet transfusion. Tricia and I were unsatisfied to say the least with the way that this suggestion was brought to us. This being Hannah's first transfusion, and not really being prepared for it, her mother and I were somewhat against the idea of making Hannah vulnerable to any other risk if it were not absolutely necessary. But what do you do when you have doctors telling you that your child's brain could be bleeding, and we wouldn't even know it. After about an hours deliberation and a bad attitude on my part aimed at the doctors on call, we went ahead with the idea. So, today her platelet count is up to about 120,000, her WBC is about 1.6 and her ANC is around 130. She is feeling a little better and has begun eating a little bit. We were planning on leaving the hospital tomorrow but were informed that Hannah has an infection in one of her central lines. They have now begun fighting this with another antibiotic. We can only hope that they can control this infection or the line will have to be surgically replaced . I now believe that we are beginning to realize exactly what we are dealing with. I pray that Hannah will be able to come home to enjoy Thanksgiving with her grandma and grandpa, but if she is unable, then we will certainly take Thanksgiving to her for she is definitely our guest of honor.
Nov13- "Well, Tricia and I got our wish." Today Hannah received her first CT scan since her diagnosis. Although the doctors thought that the results were good, I don't think they were what Tricia and I were hoping for. The preliminary results showed that the tumor has shrunk enough to relieve pressure off of Hannah's liver and kidneys. The doctors were very reluctant to give us any percentages as to how much the tumor had shrunk. After continuous interrogation from Hannah's mother, they said that it looked as if the tumor had shrunk about 20-30% of it's original size. This was good news but leaving it unsaid, I think we both expected better results. This must have been the most frustrating day of my entire life. I woke up with Hannah at 0430 having to keep Hannah awake with nothing to eat or drink for a 1030 CT scan that was postponed until 1400. One can only push a one year old around a hospital floor in a Little Tikes 4x4 truck so many times. By 0930, Hannah became a hazard to pedestrians because she was falling asleep at the wheel. I usually don't like to question a professional in their field but I have begun to do so lately. We have decided not to ask the doctor's anymore question, because if I her one more doctor/lawyer response (which usually includes a song and dance) then speaking for myself, I will loose it. I don't want specific numbers, or unreasonable requests, I just don't want to feel how I did today. I want the doctors to give me the straight forward, honest, un - sugar coated response to my questions. I think we deserve that! Anyway, I think that my frustration is talking. Hannah is doing well. I think that they have a grasp on her central line infection, she is eating well, and in good spirits. We were informed tonight that the probability is high that we will have to start administering a shot to her daily at home to help boost her blood counts. As of today, her CBC's have not made a substantial climb. We will continue to do what ever is necessary for Hannah's well being, but when I feel like I am not getting to entire story, I cannot help to question whether Hannah is in the right medical facility. Maybe this is just my frustration talking, I don't know. What I do know is that I love my wife and daughter more than anything in the world, everything else is so unclear. Good night Hannah, take care of mommy. I love you guys.
Nov15- Finally, Hannah should be coming home tomorrow. Blood counts are coming up. ANC was at 462 as of last night. Platelets and other counts are coming up as well. Third round of chemo was scheduled for tomorrow, Tuesday, and Wednesday. That will probably get postponed at least of couple of days. Hannah is feeling well. She was up and practicing walking all day today. She is finally eating and drinking better and we can't wait to get her home. We will spend tomorrow putting up our Christmas tree so that Hannah can enjoy it as much as possible.
Nov 18- Hannah was discharged from the hospital today. She went ahead and got her first two days of her third round of chemo while she was admitted. We have to take her back to the hospital tomorrow for the last day of the third round. She seemed to take it good, didn't get sick, just a little fussy. We have to start administering a shot in her leg every evening to help boost her blood counts. Hopefully this will help to keep her out of the hospital. Other than that, she is home and seems to be feeling well. We will see how it goes.
Nov 20- Well, three down and no telling how many to go. Hannah finished her third round of chemo yesterday. After her treatment, we talked with Hannah's primary doctor about the resent CT scan that was done. After comparing the images, it was apparent that the tumor was shrinking. Tricia again questioned the doctor about specific numbers, and none were delivered. However, we got very good news today. The same doctor called back, and said "although the overall measurement of the tumor did not appear to be greatly reduced (roughly 25%), the volume of the tumor had decreased from 1200 cc upon diagnosis to 600 cc after the first two treatments of chemo". The doctor indicated to us that it is the volume and not just the measurement of the tumor that is important. This 50% decrease in volume was, needless to say, music to our ears. The doctor also suggested that we could begin decreasing Hannah's blood pressure medication. All of this good news today was unfortunately overshadowed by the fact that tonight began the nights of sticking Hannah in the leg with G-CSF shots to boost her blood counts. This was not an enjoyable experience. Her mommy had to hold her down while I had to do the duty. Once again, she took it like a champ and was up and smiling in no time, watching Barney and eating popcorn.
Nov 25- Well, we are happy to report that Hannah has been feeling well. Two trips to the doctors for CBC's in the last two days. Surprisingly, her blood counts (all except for her Red Blood Cell) are rather high and we were advised to stop the G-CSF shots. However, we have to return to the hospital on Friday for another CBC and possibly a blood transfusion is her RBC doesn't come up. Grandma and Grandpa are here and Hannah is being a HAM. We have plans to enjoy the holiday tomorrow. We truly have a lot to be thankful for. Hope everyone's holiday is as well as ours. Bless you all.
Nov 28- Hannah visited the doctor on Friday and to our surprise her blood counts were on there way up. The G-CSF must not fool around. We were very fortunate to have Hannah home for Thanksgiving. Grandma and Grandpa Bartoletta left today after have a wonderful week with Hannah.(spoiling her rotten) Hannah is due back at the doctor's on Friday, Dec 4. It looks as if we are going to have a week or so to enjoy her before the next round of Chemo. Also, I am happy to report that Hannah is officially (as far as I am concerned) walking. She took steps on her own today and has been walking most of the evening, taking up to 10 steps at one time. She is becoming such a little lady.
Dec 4- Well, sorry it has been a while since our last update, but as with most cases, no news is good news. We have enjoyed the past two weeks with Hannah at home and she is doing very well. She went to the doctor on Wednesday for a CBC. Her counts appear to be high enough to start her 4th scheduled round of chemo on the 8th of December. This will be a three day round with drugs consisting of carboplatin, doxorubicin, and etoposide. If all goes right, she is expected to have surgery in an attempt to remove the tumor by the end of December. What a new years present it would be to have the tumor out of our daughter. Hannah has almost mastered the art of walking and is making her way all around the house. I feel that she is about to take a leap in her development stages. She wants nothing to do with mommy and daddy's help, Hannah can do it all by herself now (eat, walk, put on her shoes). Hannah will see Santa Claus tomorrow at the Christmas party for children fighting cancer.
Dec 7- What a nice weekend! Tricia and I had the pleasure of taking Hannah to the Christmas party for Children and Parents Fighting Cancer, which was put on by Andrew AFB. What a priviledge it was to attend. I think that Tricia and I both were rather surprised to see as many attendees as we did. It was a very special occasion and Hannah had a wonderful time. Hannah was excited to meet her Great Uncle Ernie and Aunt Donna over the weekend as well, and had fun playing with some new faces. Tomorrow starts Hannah's forth round of Chemo and with any luck and God's will, it might be her last. On top of the chemo, Hannah is cutting teeth left and right, "poor baby." Good luck Hannah, mommy and daddy will be pulling for you.
Dec 8- It was apparent today that this is going to be a rough round of chemo. Hannah took it like a champ today. We were at the hospital from about 0900-1900. Hannah was in a great mood most of the day but on the way home from the hospital she began the vomit. Trish had come home earlier and I was alone with her in the car. I felt so sorry for her and there was nothing I could do. I pulled over and tried to comfort her but I had nothing to clean her up with. All I could do was rush home as fast as possible and clean her up. Once her mother and I got her cleaned up, she was back to smiling and playing. This was the first time that we have truly seen the chemo affecting her. What a scary feeling, I pray she doesn't have to go through it again.
Dec 9- Today, Hannah finished her forth and possibly final round of chemo. She did really well with all three days. She only got sick one time. Yesterday while examining Hannah, two of her doctors commented that if they did not know better then they would not know the tumor was there. Tomorrow we start back with the G-CSF shots. Hopefully the shots will work as good as they did last round.
Dec12- I am sorry to report that Hannah is back in the hospital. After waking up at 4:30am with a fever of 101.2 we took her in and she was admitted. We are awaiting the results of the blood cultures which were taken this morning. Hannah has not been feeling well since the second day of her last chemo. Her appetite has diminished and what she does eat or drink, she is unable to keep down. Hopefully this is just a bug and she will be feeling better tomorrow. Goodnight baby! Sweet dreams!
Dec15- Well, it has been a rough week. Hannah has been in the hospital for five days now and it does not appear that we are leaving soon. Her fever finally broke on Sunday and has not returned. Yesterday she seemed to have an appetite but was unable to keep anything down. Her bottom developed a terrible rash from the continuous diarrhea and seemed to be very painful for her. Last night while cleaning her central line, I noticed that something didn't look right. I had the doctor's take a look at it and sure enough the line had gotten pulled out about and inch. An Xray of her chest was taken last night and it was determined that the line can still be used for IV fluids, but it is questionable whether it will be able to be used for future chemo. Well, this raised a whole new question in the minds of Tricia and I. Will there be more chemo??????? In a round about lawyer/doctor kind of way, we did not get an answer to that, but to keep from getting disappointed I am guessing that there will be. Even in the best case scenario. So, that brings me to this morning. Hannah woke up this morning looking rather strange. She appeared to be very sensitive to the light. After an exam by the doctor, it was determined that she had somehow scratched the cornea of her left eye. This is being treated with an antibiotic gel that we have to put in her eye four times a day. The diaper rash appears to be getting better and the eye should heal quickly, but her blood counts are dropping. She was extremely tired today and truly did not wake up today at all. Trish and I felt so sorry for her and we were both rather emotional. As much as we talk bad about the hospital, it really is a special place with special people. There is Santa Claus that comes to visit almost everyday, volunteers from all over that come to sing, and people from all walks of life that just want to give presents to the kids. Oh, but don't forget the ones that are there year around; the staff, the doctors, the nurses, the surgeons, and even that guy that empties our trash every morning, you are all so special. I hope that one day Tricia and I can do for you a fraction of what you do for us. Thank you. Someone gave Tricia and I something very special tonight. It is a sketch of Hannah as seen by the artist. It touched both of us to see our beautiful baby in such a different light. Feel free to see the sketch on Hannah's picture page. Good night Hannah, stay strong and take care of mommy. Love daddy.
Dec19- Hannah has been home from the hospital for a couple of days now. She seems to be doing better but is still fighting the C-DIF infection that she got in the hospital. Her CT scan has been scheduled for Monday. The doctors wanted to do it before the holidays. Not sure of what is to come next, we have begun opening our Christmas presents and celebrating the holidays. Merry Christmas everyone.
Dec21- Over the weekend, Hannah's belly began to appear distended to Tricia and I. We called the hospital a couple of times and they said that it was probably gas and they would see on Monday for her CT scan anyway. Yesterday we went for the CT scan and the HEM/OC doctor was rather concerned about the distention of Hannah's abdomen. They did an X ray and eventually the CT scan and determined that Hannah now has an excessive amount of fluid in her abdomen that they can not explain. We have heard a number of opinions as to what this fluid might be and we all know what opinions are like. Some of the explanations are; lack of protein causing fluid to build up, her tumor secreting fluid as it shrinks, the antibiotics that she is taking causing fluid, or a combination of all, just to name a few. We were admitted back into the hospital yesterday until they find out more about this fluid. She was given protein last night, and that is no longer thought to be the cause. The next step will most likely be to go in and draw some of the fluid out to determine what it is. The good news is that the CT scan yesterday showed that the tumor has shrank about 2/3 of its original size. The surgeons are looking at the scans today the determine whether they should do a second look surgery of not. We should know more in the coming days. The bad news is that it looks as if we will spend Christmas at Walter Reed. "Merry Christmas all."
Dec23- Hannah was discharged today and it appears that we will be home for Christmas after all. This morning she had an ultrasound done along with a tap of her abdomen to draw out some of the fluid. After performing some tests on the milky white fluid that was drawn out, it was determined that the fluid consists of nothing more than excess fat and protein that her body is unable the absorb and dispose of. The cause of this situation is thought to be a combination of chemo, G-CSF, the tumor, the infections that she had last week and so on. We were discharged this afternoon with some special formula to try instead of milk. It is the thought of the doctors that altering her diet to reduce fat intake and increase calorie intake will allow her body to fix the problem on its own. The focus now switches to her second look surgery. Her primary doctor is meeting with the surgeon tomorrow and we should have a plan for surgery by Monday when we return for a follow up. We would like to wish everyone Merry Christmas!!!!! We have already received our biggest present.
Dec24- We got the news that we wanted to hear. The doctor called today and said that the surgeon feels that he can go in and take as much of the tumor as possible. Surgery should take place within the next two weeks. "What a Christmas present!!!"
Dec31- "Happy New Year!" Hannah's surgery is scheduled for Wednesday morning. We will be admitted to the hospital on the 5th of January. Other than that, things have been rather uneventful. We enjoyed our Christmas and hope that all of you did as well. Tricia and I have I high hopes for the upcoming year and have been giving some thought to some new year's resolutions. Hannah's surgery comes at the close of a year that has been a roller coaster of joy and pain. We have seen our baby grow from a tiny infant that did nothing more than eat and sleep into a wonderful little lady that has introduced feelings to us that we never knew were possible. Tomorrow is January 1st and there is a strong sense of a fresh new start in the Bartoletta family. Although the past year has delivered some devastating events for us, we are much wiser for the experience. There is a new found strength in our family that stems from our daughter's amazing courage to fight this disease. "God, you have a new angel in heaven now, for this week we lost a wonderful friend who was very special to Tricia. (Dorothy Smith) Please have her watch over us in the coming week, the coming year, and for years to come." Happy New Year everyone, we will be thinking of you.
Jan5- Today is the day! We will be admitted to the hospital today around 2:30pm. The surgery will take place sometime tomorrow morning. She is expected to be in the hospital for at least a week. We will keep you posted when possible.
Jan10- I am sorry it has been so long since the last update. As most of you know Hannah went in for surgery as scheduled on the 6th of January. I really don't know where to start so I guess I will start by saying that "what was supposed to be one of the happiest days in our lives took a turn of events that made it one of the worst. Hannah's surgery was going well, until the very end when the surgeon realized that two major blood vessels stemming from Hannah's aorta were running through the middle of the tumor. It had been seven hours of surgery and the surgeon felt that he had done all that he could do. He was able to remove about 1/3 of the tumor. This left the tumor at about racquetball size. Following the surgery we met with the surgeon and he notified us of this disappointing news. He had also said that he did as much as he could do without taking risk. He admitted to severing two blood vessels during the procedure but said that all organs remained functional. As time past in the PICU, Hannah's condition began to deteriorate and she was unable to produce any urine. Finally by Thursday afternoon, the doctor's decided that Hannah should be airlifted to Fairfax Children's hospital in Virginia where a kidney specialist could take over. We have been there ever since and Hannah has remained under sedation and numerous medications. Dialysis was started on Friday in an effort to keep her stabilized while buying time for her kidney function to return. Early scans and ultrasounds determined that there was minimal to no blood flow to her kidneys. According to the doctor, this is just a waiting game. The kidneys could come back anytime from now to months from now or not at all. Tricia and I are trying to hold it together for Hannah. We have been praying everyday for some good news and are feeling very angry and frustrated that this is happening to our baby. It has been four days now since we have held her in our arms and we are going crazy. We know that it is best that she stay asleep right now but we miss her smile so much. Tricia and I ask that anyone who read this say a prayer for Hannah before you go to bed tonight, our baby is very strong but she needs all the help in the world right now. I will keep all of you posted as often as possible. God willing I will have some good news for you soon.
Jan12- Today brings some sense of good news in that things seem to be moving forward. Hannah is still under sedation and for the most part nothing has changed. She is however showing some signs that she is healing. Her blood pressure and other vital signs are staying fairly stable. Her abdomen was gathering quite a bit of fluid over the past couple of days and the doctors were getting rather concerned. The good news is that the fluid seems to be going away from the measurements taken last night and today. She is becoming increasingly difficult to keep sedated and has the strength to move around. She is still undergoing continuous hemo dialysis. The play for the immediate future is that tomorrow she will undergo a minor surgical procedure to insert the peritoneal dialysis catheter. Following a few days of healing from that, they will begin to experiment with the peritoneal form of dialysis. There is some question about whether this will be effective due to the extensive abdomen surgery that she has undergone. These are positive signs that things are moving forward and we are very hopeful. The issue of the treatment for the NB has not yet been completely addressed. We should know more in the days to come and I will try to keep you updates ASAP. Thank you for your prayers and please continue to pray for our baby.
21Jan-To try to explain everything that has happened since my last update would be an impossibility. What I can tell you is that Hannah is doing better . Since my last update she has overcome many obstacles. She received five days of chemotherapy and did pretty well with it. Her new doctors are treating her a little more aggressively than in the past. Hannah is a higher risk patient than before because it is suspected that the tumor will not be able to be resected and she is being treated without kidney function. I wish that I could say that the doctors are still optimistic about her kidney function returning but with the passing of every day it is less likely. In the past couple of days, Hannah developed a fever and was experiencing some pain in her abdomen. No cultures returned showing any infections until this morning when her peritoneal dialysis fluid showed positive for a fungi infection. Hannah was taken for a series of CT scans this morning and there was a scare that she had a perforated bowel. After extensive studying of the CT scan, it was discovered that her peritoneum was enflamed due to a fungi infection, so she is now being treated for that as well. If they are unable to control the infection then the PD catheter will have to be removed and she will have to be put back on hemo dialysis. This would ultimately mean that she would have to be transferred to Children's Hospital because pediatric hemo dialysis is not offered at Fairfax Hospital. Hannah is awake and alert now but still remains pretty still. We finally got a chance to hold her the other day for the first time in two weeks. It was so nice while it lasted but for Hannah's comfort, we have been leaving her in the bed most of the time to rest. To say that this has been a very difficult three weeks would simply not be justification. It tears mine and Tricia's heart out to she our baby in pain. We have always had such high hopes for her treatment but these past two weeks, we have been questioning our faith. With so many people praying for Hannah, we truly can not understand why any this is happening. Today, when the status of her bowel was in question and the doctor's were coming in an saying "I am so sorry", a sense of fear and hopelessness overcame both of us. We were together in the same room but could not bring ourselves to say anything to one another yet I believe that each of us knew what the other was thinking. We had reached our lowest point and our hope and faith was quickly fading. I for one wanted to break down and begin crying, but I was too angry to cry. As much praying had been done, how could God be doing this to our baby. It was at this moment that Hannah's doctor entered the room and said that what they had thought was a perforated bowel and would have most likely required immediate surgery ended up being a fungi infection that can be treated with antibiotics. This was still not good news but it was far enough from the terrible news that we were expecting that Tricia and I instantly cried tears of joy. It was all I could do to place my hands on Hannah's chest and whisper thank you in her ear. I believe that somehow, between her and god, she knew that our faith was slipping and that we needed to be reminded that she is strong. Hannah, "I am sorry baby, mommy and daddy love you and we will do our best to stay strong for you. We love you." Please keep praying for Hannah's recovery. Updates will come when possible. Thank you!
Jan24- We are settling in to the hospital rather nicely and it is becoming our home away from home. Today, the wonderful nursing staff moved us into a room with a built in bed (actually a bench but it acts as a bed these days) and a private bathroom. Hannah is looking better with every passing day. Yesterday Tricia and I were holding her and somehow in the midst of passing her back and forth her feeding tube and her drainage tube that were in her nose got pulled completely out. We honestly do not know how it happened because we were both very careful, we just looked down and they were out. To our surprise and the doctors surprise, Hannah is doing very well without them so they did not put them back in. Hannah has been sleeping soundly ever since. Her breathing is great, she still has oxygen blowing on her but not much. Still no kidney function. They put a catheter in her today for the first time in about four days and there was nothing. This was a little disheartening to Tricia and I but seeing her without the tubes and beginning to wake up makes up for it. When I say beginning to wake up, I mean only in the sense that see will open her eyes if we turn her Barney tape on. Otherwise the kid is out. Her medications are down to morphine and one other pain medication every six hours but they are weaning her off of those tonight. Hannah is no dummy, the other night she would open her eyes if Tricia was beside her bed but when a nurse or doctor came in the room she would close them back again then open them when they left. It was the funniest thing. Tonight we were watching a video of Hannah before her surgery and all the doctors and nurses came in to watch if with us. One nurse there, (Gabriel) has taken to Hannah like a grandma. She gives her kisses and calls her, "her little banana." Tonight she brought in a beanie baby for her. I think that everyone at the hospital is beginning to realize how strong and special she is. Tomorrow is sure to bring more miracles. Please keep praying.
25Jan- Miracles we were hoping for and miracles we got, but not nearly the miracles that we were expecting. As time goes by, each day seems to be the most difficult in my life. Hannah was extremely sleepy today. Tricia and I tried to give her a bath and she just would not wake up. We felt that she was sleepy and needed her rest so we went to our room to get some sleep ourselves. When we returned to the hospital a few hours later one of the nurses was trying to arouse Hannah because her breathing and heart rate were slowing down considerably. Shortly there after, Hannah was in cardiac arrest and we were watching from outside the doors as the doctors and nurses frantically tried to revive her. She had turned pale white and for about ten minutes her vital signs continued to diminish. This was our worst nightmare that only happened to the families down the hall. Not to our family. Tricia cried tremendously and I stood there in the most blank of emotions and tried to hold her. Suddenly Hannah's heart began to beat on it's own, her breathing stabilized with the use of the respirator and from outside I saw our baby open her eyes just the slightest bit. Soon there after Hannah began to stabilize fairly well and the next question in our minds and the doctor's minds was, why did this happen. As the night went on and the doctors continued to monitor Hannah, it became apparent that this episode was the result of a build up of morphine in her liver. She was in the process of being weaned off of a lot of drugs and in order to ease some of the withdrawal symptoms she had been given morphine every four hours for the three day period prior to this incident. The problem came on because the morphine, which usually gets cleaned from the body through the kidneys, was not being cleaned through the dialysis so the byproducts of the drug built up in her system and basically put her into a permanent sleep.
26Jan- Hannah's condition has continued to improve through the night. Needless to say, she is not receiving anymore sedation. She has the breathing tube back in but she seems to be handling it well. Her eyes are big and alert and she looks as if she's ready to wake up. This morning I had a rather ugly disagreement with Hannah's kidney doctor. We seemed to disagree on the fact that someone should have been watching her a little more closely since it is not an uncommon thing for morphine to not be cleaned from the body through dialysis. The conversation only went down hill from there as he proceeded to tell me that "they are only human and they make mistakes" and that I was in search of perfection that I was not going to find. He then informed me that he didn't feel as if I understood how serious my daughter's illness is. It was everything I could do not to grab this doctor by the throat and explain things to him a little more clearly. I was absolutely at the end of my rope. My daughter is fighting cancer and has kidney failure due to questionable events that happened in the operating room, and almost died because someone did not do all of there homework before pumping morphine into her body. I don't want to sound like I am not appreciative of what the doctors are doing or that I don't think that they are doing there best because I am and I do. But the bottom line is that in any profession, people make mistakes but people pay for those mistakes. If I make a costly mistake at work, I would apologize for it but I still might be reprimanded or fired. For a trained medical physician to make a life threatening mistake and light heartedly blow it off with a comment like "people are human and we make mistakes" is unacceptable. We all learned a lot through yesterday's experience. As I stood there watching from the outside feeling so emotionless and cold as the doctors were performing CPR. I could not look away. I almost felt a sense of relief for Hannah's sake. That she had had enough and was too tired to go on and that it would soon be over. If I could not be with her, I was going to at least watch as she said goodbye. As I watched her eyes open again and through the course of the night I realized that Hannah was not saying goodbye. Instead she was showing us that she was ready to wake up and that she needed no more morphine. She is getting stronger, I can see it in her eyes. "God, please watch over her." Hannah will be baptized this week at the hospital, please keep her in your prayers. Thank you.
27Jan- The doctors are working diligently to remove the excess fluid that Hannah has stored up during to past to days. They are being a little more aggressive with the dialysis because they want to get the fluid off in preparation for removing the breathing tube again. Hannah's CBC's (blood counts) are holding at a low level and we are waiting for them to begin coming up. She is still alert but calm and has not received any more sedation. Maybe today will bring a better change of events. More updates will come when possible. Thank you for keeping her in your prayers.
27Jan- Not to send anyone on a roller coaster ride like the one we are taking but, Hannah had urine in her bladder today. Yes, you heard right. We got to the hospital early this morning and the nurse said that she thought that Hannah had kind of a heavy diaper when she change it. She said that there was some stool in it but it didn't look like enough to make the diaper as heavy as it was. The nurse was as excited as we were and wanted to put a catheter in Hannah. Tricia and I just looked at each other, both of us thinking that this nurse was just a crazy old lady whose imagination was running away with her. Low and behold though when she put the catheter in pure yellow urine came dripping out. Now it was not a huge amount but I was pure urine and not bloody at all. Tricia and I looked at each other and began laughing, it was the best feeling to know that something was going on with her kidneys. That urine didn't just get there by magic. We will see what the coming days hold for us. Hannah is going back into surgery tomorrow to have the peritoneal catheter removed so that the infection in her belly has time to heal. We pray for the best and that God will be watching over her. Hannah was finally baptized today, it was long overdue and very wonderful. One of Hannah's nurses brought in a new blanket for her, a tiny bible, and a cake that that said "God Bless Hannah". We all celebrated Hannah's baptism together. Tomorrow is Tricia's birthday, hopefully Hannah is planning a big present for mommy. "Happy birthday honey, may God bring you all that you wish for!!!"
28Jan- No real change of events today. Hannah went in for surgery this morning and had the peritoneal catheter removed and a hemo dialysis catheter inserted into her jugular and fished under the skin and out of her chest. Already, we can see that this system is very temperamental and requires a lot of attention because the blood flow can become interrupted fairly easily. Tricia and the nurse felt as if they saw some more urine trickle down Hannah's leg when they were changing her diaper. We are crossing our fingers.
2Feb- I don't know exactly where to start for this update. The last three days have been very tough ones to endure and early this morning the fight became too much for our baby and she passed away in our arms. This is devastating news to have to report to the many people which have been praying for her recovery. The only comforting feeling that I have at this time is that she is no longer having to fight this terrible disease and that she is in heaven smiling down on us. Funeral arrangements have not yet been made but Hannah will be laid to rest close to our home in Atlanta. It is at the request of Hannah's mother and I that donations be made to the Nueroblastoma fund in lue of flowers. God bless you all for all of your support and God bless our baby Hannah.
3Feb- Arrangements for Hannah's funeral have been made and are as follows.
Northside Chapel Funeral Directors
12050 Crabapple Rd.
Rosewell, GA 30075
Phone: 770-645-1414
Date: Saturday, Feb 6 1999 10:00am
Again, in lue of flower Tricia and I request date donations be made in Hannah's name to the Neuroblastoma Children's Cancer Society at PO Box 957672 Hoffman Estates, IL 60195. God bless you all for all of your concern and we will continue to stay involved in the fight against this terrible disease. That is our promise to Hannah. Thank you again.
15 March, 1999 - Tricia and I have returned home and are settling back in. We have both gone back to work and are doing fairly well. We miss Hannah tremendously and nothing will ever take that away but we have begun to heal and it comforts us to know that Hannah is in a place where she does not have to have pain or sickness any longer. Tricia and I always feel a strong presence of her and we beleive that she will continue to guide us. Reflecting on the past several months always brings a tear to my eye. Hannah taught us many things. To name a few she taught us how to smile, how to love, and in the end how to go on after you lose what means the most to you in the entire world. This will be the final entry on this page but we will continue the fight against children's cancer in any way that we can. We have plans to start another page in order to keep people informed on what is happening in our lives after cancer. We hope that you will find this page and stay in close contact with it, for if there is one thing that we have learned, it is that life goes on. Thank you for all of your support and keep fighting.
26 September 2000 - It has been a long time since I have found myself in front of this computer contemplating the correct words for editing this page. I was just reminded as I read back over my own words from some time ago, that I was to make no further additions to this page. On this, the eve of Hannah's 3rd birthday, not being able to be at her grave side, I can find no other place to unload these words. It has been three years tomorrow since you changed my life forever, the first time... It has been two years, the day after tomorrow, since you changed my life forever, the second time...and amazingly, it has been one year and almost seven months since you changed my life forever, the third time... You have continued to change my life, for the fourth and fifth and sixth... as so on and so on... times, even since you have passed away. Your mommy and I miss you so much and that will never change. With the birth of your little sister in June, we did not know how much of the pain of loosing you that she would bring back. We quickly found that she carries your same beautiful smile and many of your mannerisms. Some minutes she reminds me so much of you that I almost forget that she isn't. Other minutes, her contrasts to you are so obvious that I can almost see you looking down at her and shaking your head, thinking "what is my goofy sister doing, why doesn't she just go night night?" I guess what I am trying to say is that I want you to know that mommy and I are good. Our love has grown for each other and we have grown as people. I think that we are happy again. While Haley will never replace you, she brings us all the joy and love that we once received from you, when you were here on earth. Please watch over mommy, daddy and your little sister as we set forth on our new beginning without the military. We all love you very much and miss you more than anything in the world. I Love You! Happy 3rd Birthday baby! Love Daddy
3 October, 2001 - Hi baby, it is unbelievable to think that it has almost been three years since you were taken from our arms. Another birthday has come and gone and you would four years old now. Oh, what a help you would be with you little sister. She is an amazing little girl, a little wirey but amazing none the less. I am sure that you two would be the best of friends. She reminds me of you so much. It sadens me because she is now beginning to do things that you never had a chance to do. She is walking extremely well, she has a mouth full of teeth, and she is a definate mommy's girl. Speaking of your mother, she is doing fine, she is so worried that we didn't get a chance to come to your grave for your birthday this year. I dont feel the need that she does to be there, you are in my heart and always on my shoulder when I need your guidance and protection. I guess that you have gotten many friends up in heaven in the last month. I would ask that you watch over all of these families that have lost loved ones as you have watched over your mother and I for the past four years. I wish that I had enough pictures of you to send all of these victims your beautiful smile. I know that the thought of their loved one being able to play with you in heaven would certainly ease their pain. I Love you ! Happy 4th Birthday! Love Daddy

24 November, 2002 - Hi baby! Once again it has been far too long since I last spoke to you. Your 5th birthday came and went this past year with even more swiftness than the year before... I dont know if you birthdays seem to come and go faster every year simply because I am getting older or because so much has changed since you had to leave us. Your mother stays on me about remembering your birthdays, and wanted to be at your grave during special occasions. I can understand why she longs for ways to be closer to you but I guess we have our own ways in dealing with your loss. I think I feel the closest to you when I take the time to sit down at this computer and write another entry in this journal, which admittedly is not often enough. I hope you understand that whether we are there by your side our hundreds of miles away, that you are always in our hearts and on our minds. Whether it is your birthday, the anniversary of your death, the holiday season, or just a ordinary day, you are always on our minds. This year probably been the most difficult one for us since your death, for a number of reasons. This year you would have turned five years old, the start of the school year was difficult because this would have been your first year in kindergarden. This summer was difficult because for the first time, your mother and I took Haley camping with us. Camping, while it is something that your mother and I love to do always stirs up your memory, as the activity provided an outlet for us in our time of greiving over your loss. We would have had a lot of fun this summer. Your younger sister is a god send! She is becoming such a little girl. She is already potty trained and just about completely out of diapers. She knows your name and can usually pick out your picture but I dont think that she will ever truely understand what your meant to your mother and I. She has started asking for a baby sister, so that might not be too far off. God help your daddy if there is another female in this house.... I guess your probably know that we got a dog this summer, her name is Cherokee and she is definately a handfull as well, but I enjoy having her around. We are probably getting ready for another livestyle change as daddy's company goes through more cuts and more people lose their jobs. For some reason, I am not too overly concerned with it though. I guess I look back on what we had to endure in the past, and the thought of losing my job seems rather trivial. I hope that this holiday season brings you joy baby, you will definately be with us in our hearts and feel free to drop down and pay us visit even if only in our dreams... All my love, Daddy.
Please visit us from time to time at:
The Bartoletta Home , a new site dedicated to life after cancer.
---
---
Feel free to write to Hannah's parent's at: Hannahshope@hotmail.com

---
This page owned and updated by
---